1994 Slammy Awards
WWF Mania
Broadcast December 31, 1994
Hosted by Todd Pettengill & Stephanie Wiand
Studio show with Todd and Stephanie announcing the winners of several awards showing either matches or video packages. Through-out the show they hyped the Royal Rumble that was only three weeks away.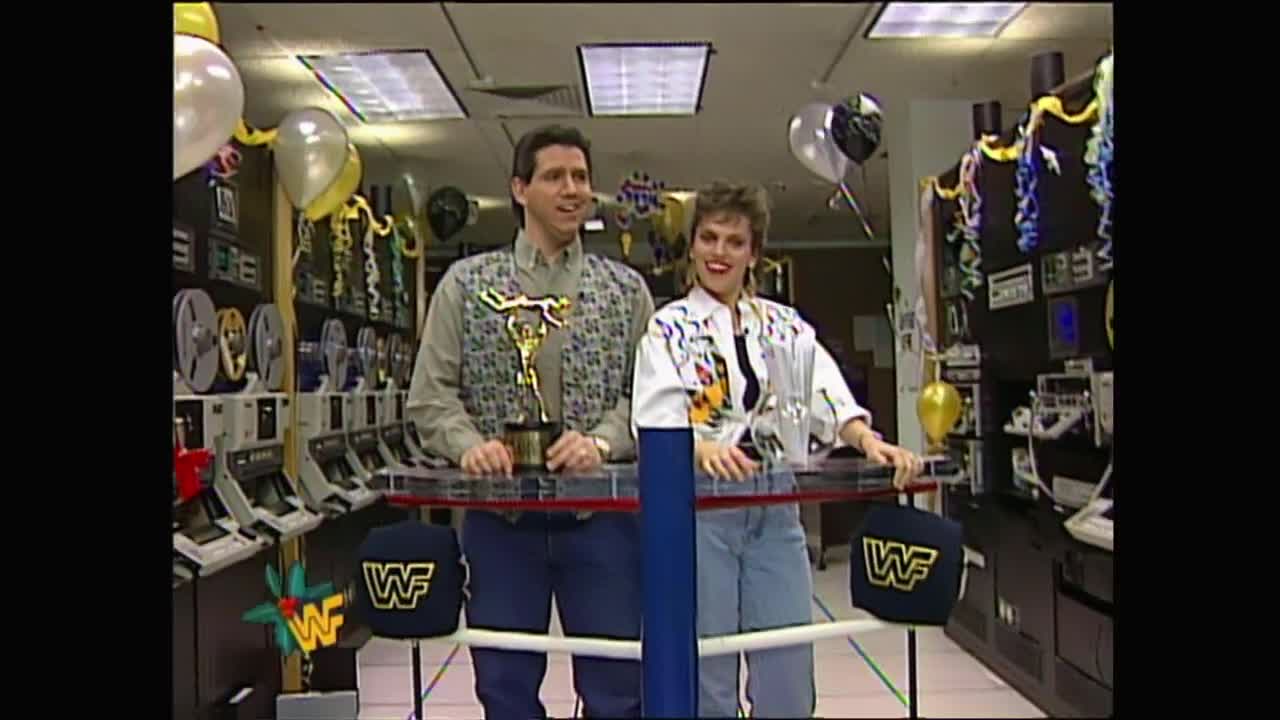 Most Intimidating: The Undertaker
Taped 12/12/1994 Liberty, NY
Commentary by Gorilla Monsoon & "Sweet" Stan Lane
Undertaker w/ Paul Bearer pinned Brooklyn Brawler win with the tombstone after a squash.
Video package of Double J: Jeff Jarrett at Caesar's Palace talking about his debut album "Ain't I Great?"
Best Entertainer: Oscar of Men on a Mission
Worst Idea: Abe "Knuckleball" Schwartz
Sweatiest: Irwin R. Schyster



Biggest Rat: Owen Hart, so I guess he's a three time slammer award winner.
Taped 11/30/1994 Lowell, MA
Commentary by Gorilla Monsoon & "Sweet" Stan Lane
Owen Hart defeated Buck Quartermain with the sharpshooter after a belly to belly suplex. It wasn't a complete squash as Quartermain did get some offence in
Video package from Bret Hart after his injury from Survivor Series talking about his upcoming title match Diesel.
Greediest: Tatanka, for selling out to the Million Dollar Man
Most Spectacular Match: WrestleMania X: Intercontinental Championship Ladder Match: Razor Ramon vs. Shawn Michaels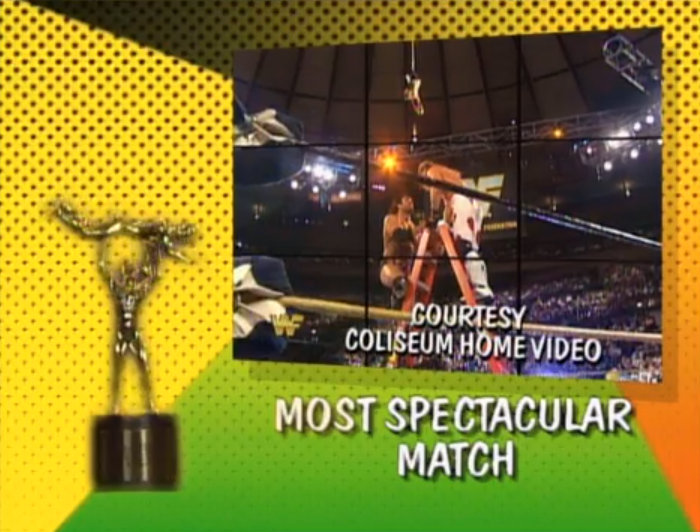 Best Coliseum Home Video Release: Raw Video Secrets, tips on the video game
Kama: The Supreme Fighting Machine is coming promo video
Best Tag Team: Shawn Michaels & Diesel
Worst Tag Team: Shawn Michaels & Diesel
Mouthiest: Jerry "The King" Lawler
Most Eccentric: Mr. Bob Backlund
Smelliest: tie Henry Godwin & Duke "The Dumpster" Drose
Best Movie: tie Princess Caraboo & Speed
Most Likely to see Jenny Craig: Bastian Booger
Monday Night Raw, Taped 12/12/1994 Liberty, NY
Commentary: Vince McMahon & "Heartbreak Kid" Shawn Michaels
"British Bull Dog" Davey Boy Smith vs. "Native American" Tatanka w/ "Million Dollar Man" Ted Dibiase
Yes that is correct, VKM must have said Native American Tatanka a dozen times. Pretty standard match, impressive vertical suplex by the bulldog. Dibiase low bridged the Bulldog when he went into the ropes sending him to the floor. Lex Lugar ran out to make keep Dibiase away from Bulldog. Tatanka and Lugar mix it up leading to Bam Bam Bigelow running in and the match was thrown out.
Best Pay-Per-View Event: WrestleMania X
Best Manager: "Million Dollar Man" Ted Dibiase
Best New Generation Spot: the one where the little kids yells Bret and the Hitman gives him his glasses
They talk about the WWF Tag Team Championship Tournament taking place exclusively on Superstars of Wrestling leading to the Royal Rumble
Superstars of Wrestling, Taped 11/29/1994 Poughkeepsie, NY Mid-Hudson Civic Center
Commentary: Vince McMahon & Jerry "The King" Lawler
The Bushwackers: Lukle & Butch vs. The Heavenly Bodies: Dr. Tom Pritchard & "Gigolo" Jimmy Del Rey w/ James E. Cornette
Luke took a beating while the bodies tagged in and out, Luke made a couple tags behind the officials back so they didn't count. Butch finally gets the hot tag and clears house. Butch goes to slam Pritchard from the outside in when Del Rey pulls the ankle with Pritchard falling on top of Butch getting the 3 count to advance in the tournament.



Todd & Stephanie talk about the progress of the Tag Team Championship tournament and where they are so far.
Most Improved Etiquette: The Headshrinkers: Fatu & Sione
Most Devastating Superstar: Bull Nakano
Taped 11/28/1994 Poughkeepsie, NY Mid-Hudson Civic Center
Commentary: Gorilla Monsoon & Stan Lane
Hakushi w/ Shinja vs. Reno Riggins
Squash match with Hakushi getting in all his signature moves including an impressive dive to the floor, which we didn't see that often in 1994. Hakushi gets the win with a flying headbutt
Funniest: Dink the Clown
MVP Award: Diesel
Best Show: WWF Mania
It was an interesting show, the Slammy's had no nominations just them taking an index card out of an envelope. In-fact a few times Stephanie would announce the winner with-out looking at the card an once before she had the card out of the envelope. Todd even called her on it a couple times.
The matches that had commentary by Gorilla Monsoon & Stan Lane were Mania exclusive matches even Stan mentioning the fact that the Hakushi match was the last match of the calendar year for the WWF.
As they wrapped show up they listed other awards that they hadn't read on the show.
Most Evolutionary: Gorilla Monsoon & King Kong Bundy
Most Patriotic: Lex Luger
Best Dressed: James E. Cornette
Biggest Heart: 1-2-3 Kid
Todd Pettengill is currently a radio disc jockey for WPLF 95.5 in the New York area.
Stephanie Wiand seemed to disappear after her WWF run until 2011 when she made the film "Revenge of the Bimbot Zombie Killers." She's worked on a few more projects since then.
Thanks for reading, please take a moment to leave a comment, like my blog on Facebook or follow me on twitter.
Later Readers!